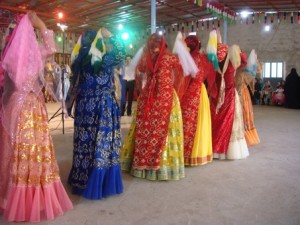 Clothing was always important in ancient Iran and issues like geographical situation, social conditions and lifestyle,kind of government, religious beliefs and many other factors influenced it.
Due to diversity of Iranian ethnicity there are lots of different and beautiful clothing in the country. Still many people in small towns and villages wear their traditional clothes.
one of these clothing is Gilaki traditional clothing that belongs to north of Iran.It has a colorful skirt for women and men usually wear hats made of wad.
The other traditional things in Iran is Nowruz
March 19, IRNA — Nowruz, a festival marking start of the new Iranian year, is celebrated in Iran. Passage of time has not reduced importance of the traditional festival and it is being observed by people more gloriously each year than the previous year.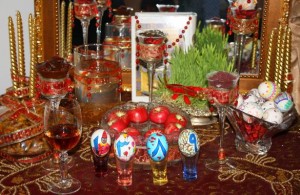 Nowruz rites start in the northwestern Iranian city of Orumiyeh West Azarbaijan) alike other parts of Iran before commencement of the new year.
A month before Nowruz, housewives start dusting and cleaning every part of their houses, dusting furniture and washing carpets.
The practice represents renewal and refreshment.
The house should be brushed off any dirt, because ancient Iranians held that the soul of their departed family members frequented their home on the eve of Nowruz.
Chaharshanbe-Soori (Fire Festival) is one of the ceremonies held prior to advent of the new year.
Chaharshanbeh Soori is an old Iranian tradition, coming on the last Tuesday night of the old year.