Mashhad
Mashhad is the second most populous city in Iran and capital of Razavi Khorasan Province It is located in the northeast of the country
The city is most famous and revered for housing the tomb of Imam Reza, the eighth Shia Imam. Every year, millions of pilgrims visit the Imam Reza shrine and pay their tributes to Imam Reza.
Mashhad is also known as the city of Ferdowsi, the Iranian poet of Shahnameh, which is considered to be the national epic of Iran. The city is the hometown of some of the most significant Iranian literary figures and artists
Qom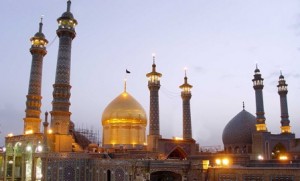 Qom, the capital of Qom province, is located 125 kilometers south of Tehran, on a low plain. The shrine of Masoumeh, the sister of Imam Reza, is located in this city, which is considered by Shia Muslims holy. The city is located in the boundary of the central desert of Iran (Kavir-e-markazi). This city has a hot summer semi-desert climate with low annual rainfall due to remoteness from the sea and being situated in the vicinity of desert. The exception being its hot summers, other seasons are suitable for traveling to Qom.